Have you ever woke up from bed one morning and felt so good about yourself just because you completed an enormous task that even you could not imagine can be done? Well, that was precisely how I felt on the morning of April 29 which was a Wednesday. I felt this because I achieved one of my biggest goals that I have been working on since 2012. I successfully published my book titled Road Map to a Successful Football Career on Amazon and ordered the first 20 copies for myself.
You may want to ask, why is the book necessary and why did it take so long to work on?
I wrote the book due to 20 years plus experience as a broadcast journalist covering football and as a football academy administrator who has had the chance to take players to trials and international tournaments in Germany, Denmark, Norway, Sweden, Tunisia, and South Africa to mention a few. I  have also had the privilege of working in one of the most organized football associations in the world the US Soccer Federation as a referee and youth coach. I get tons of emails from players in Africa, South America and some European countries asking if I was an agent and if I can help them to get a trial opportunity overseas.
Then I know if I didn't do something about this, many more players will be misled, swindled and many careers will be cut short so I decided to start work on it gathering data and specific information that will work if well executed.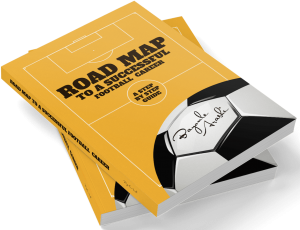 I had to make sure every information in the book is practicable and can be achieved by anyone who truly desires to achieve success in the game, I was also seeking opinions of football leaders that I had the pleasure of knowing back then. One of the early reviewers of the book is Barrister Seyi Akinwunmi the Lagos State Football Association Chairman and Vice President of Nigeria Football Federation,
Have you been thinking of how to go from playing in the streets to playing at the biggest stadium overseas?
Don't know what academy you need to join to get scouted?
How to contact scouts and football clubs directly?
Or you want to know how to get a football (soccer) scholarship into Colleges and universities in the United States and Canada?
All this information and more are what has taken me 8 years to put together for you and it is available in this book.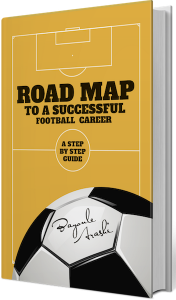 Road Map book details the What-To-Do and How-To-Do that will make your dream of becoming a professional soccer player a reality, It also provides information on how to find a college or university scholarship to study and play the game in countries that offer such opportunities. More importantly, the book makes you know the difference between a football academy and a football club in detail.
For example, I get this question from players every time they enquire about joining my academy. Are my going to get paid?
The answer to this question is always NO, As an academy player, no one will pay to teach you how to become a better player than you are, it is actually the other way round. It is the price you have to pay for your ultimate goal.  So if you have kids between ages 7 up to 16 years old, quickly order a copy of this book for them as a wonderful parent should, I also urge every lover of football to own a copy.
You will also find in the book the Red light to look out for when you are being approached by anyone claiming to be a scout or an agent to a football club or promised to take you to some country, that you have to pay some amount of money to make this happen. It also provides information on how to identify a genuine football agent who has your interest at heart, it Xrays how a football contract works, what you need to do to brand yourself, how to attract a scout, agents, or coach to show interest in you and many more.
The biggest offer for owing the book is the contacts, phone numbers, email, and website of over 2000 college and club coaches in the United States and other countries that I am offering for free after your confirmed purchase of course. 
As one of my mentors always says, YOUR DREAM IS POSSIBLE but you have to work the talk, you can say this affirmation 1 million times a day and it will like magic but your actions must match your word. Keep training hard, give your best always and make sure you get self-knowledge which is what this book is offering you. Nothing more powerful than a man with knowledge. So whether your dream is to become the next Messi or Ronaldo? or you just want to play in the Scandinavian league and make a decent living? or you have a good school grade and you want to go to school overseas and still play the game you love.
Buy and read Road Map to a Successful Football Career.
Bayonle Arashi, to your success. I look forward to your reviews.