Today February the 7th 2020 makes it exactly 5 years I landed in the beautiful city of Atlanta in the state of Georgia to begin a journey I had no idea or thought of where it is going to take me. It was a straight 14 hours flight from Lagos to Atlanta and a more or less easy entrance into the country after a brief interview by the immigration officer at the Port of entry.
I looked back as I woke up to go to work this morning with so much nostalgia but thankful for the exact point I am at the moment while looking forward to a bigger adventure ahead. There have been many nights of tears, pain and as I put it on my social media post earlier coulda woulda shoulda but in all I give thanks. The toughest of it all is not seeing and holding the four beautiful angels God granted to me to father Ayomide, Ayomiposi, Oluwasemiloore, and Iremide in my arms for the past five years. I am grateful still that social media gave me the opportunity to be in constant communication with my girls and we do make it up with WhatsApp video calls every weekend or as much as time permits.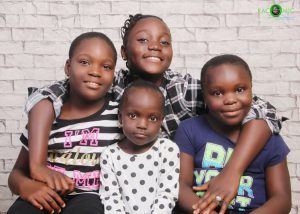 I have too many memories of the last five years to share but will share a few here now while hoping to put the rest in a book along with other experiences I am still going to gather in the future. I will, however, share some personal experience and appreciate some specific people that have helped me to get to the current place I am.
Prior to my relocation to the States in 2015, I have always wanted to have a home outside of my home country of Nigeria but I never thought a certain circumstance will make it happen when I least expected.
I own and operate a football academy in Nigeria which happens to be one of the best in Nigeria to date and basically what we do is to recruit the youngest and best football players across the country, develop them and help them to make a career out of the game. Our plan also go beyond just turning out great football players but to make them useful as men in the society just in case their talent is not enough for them to make playing the game work for them, I am a huge advocate of vocational education because I passed through the stage and I know the huge edge it helped to propel my career so we always offer to every newly registered player of the academy to choose what career path they will like to pursue apart from just training and developing their football talents.
We have a big vision for the future to build proper infrastructure and give between 50 to 150 young African and Nigerian youth an opportunity to make their dream a reality either by becoming a successful football player or becoming an Entrepreneur creating business for others to emulate.
The story, The academy had resumed in January 2014 as we usually do, had a meeting with the two coaches on the academy payroll and strategized on plans for the year. The plan was to make sure we take our team to Europe that summer for a trial camp and let the players have an opportunity to explore a bigger career opportunity. The academy had previously taken teams to youth tournaments in Europe and North Africa but in 2014 we had the option of Turkey. I have no partner in the Turkish football market at that time but I met a guy in Instanbul on my way from Tunisia in late 2012, we have been communicating constantly via Facebook and when I made a post on my personal page as well as the academy social media page that we are looking for a consultant to organize a trial camp for the academy. he responded that he knows some club executive in Turkey that could help us execute our plans in bringing the team there for 10 days to play 4 matches in 8 days and rest for one before returning back to Nigeria hoping the teams we will be playing against will show interest in some of the players and possibly sign them so we can make some profit. Each player was to pay the sum N350,000 approximately $1100 each which covers visa, feeding and flight ticket to Turkey and back for 10 days.
Since the academy players and parents trust me and could see our past record of success in executing such a project, many players responded but only 18 registered and paid the amount requested. I called the partner who I have for a professional reason decided not to mention his name for now since the matter is still registered with the Nigeria Police Force. I also registered myself and the academy head coach for the event so the amount exceeding  N3 million about $9,000 was paid as upfront payment to process visas for the 18 players and two officials. He called about a week and a half later that the visas were ready which he proved by bringing my passport with visa stamped on it. He then requested for the remaining fee so he can secure flight tickets and the team can fly a few days later, since the money was already in my account, I transferred the remaining balance of over N5 million about $15,000 to his own account. I did all of this with so much excitement and a huge expectation of return.
That last transfer was the beginning of a major turning point in my entrepreneurial life, I found out two days later from a friend that the visas that were issued and stickered to the 20 passports were all altered and not issued by the embassy. On finding out I reported the issue immediately to the nearest police station so we can make an arrest of this deceitful fellow immediately but all effort to get him from there on proved abortive knowing fully well what he has done. I decided to inform my coaching staff and they suggested calling the players together and let them know the heartbreaking news. Some took it and acted like they believed while others asked what will happen from here on which I replied we will have to find out. Some of the player's parents on hearing it did what any parent will do by reporting to the authority who invited me to come to explain what had transpired. I made a promise to return the funds personally. Sold my personal car, the landed property I planned to use for my house and was able to refund a few of the players.
What to do next was unknown at this period and that was when the idea of going away from the country for a while crossed my mind as I could not look my children in the eyes and tell them they won't go to school anymore since I have sold all my assets.
On the night of 6th February 2015, I departed Lagos for Atlanta from Atlanta to New York and a three-day brutal train ride from New York to San Bernadino California which became home for the next six months. After connecting with a former senior colleague in the broadcast industry, he suggested I come to Houston Texas and was able to introduce me to a local Houston television channel executive who gave me the opportunity to manage the channel and I did for the next two years. California was good but Houston was more of home than anywhere else and I have loved every bit of it.  Since then, I have worked with Amazon, FedEx, Goodman Manufacturing and currently with the Texas Department of  Criminal Justice. these jobs have nothing to do with my background as a Broadcaster and Football Entrepreneur but this is America and you have to hustle.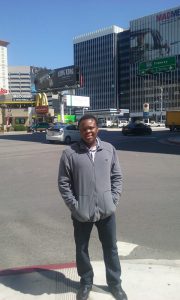 Staying away for five years without my daughters, my parents, friends and directly managing the academy project has been brutal, challenging and very emotional but it has made me grow to a better person and the experience I have gathered can never be bought for a million dollars. I have had nights of tears alone in my bed, in the showers, while driving and sometimes when I am cursed out by my supervisors at work but I have managed to take it all in and use it to further develop my leadership skill. I am filled with hope and an exciting future ahead and believed so much that all I have missed and lost is being restored back to me from here on. This is my journey so far.
I will love to come to share my experience and how I have been able to come out of many challenges while here at your gathering or event, let's talk.
My book Road Map to a Successful Football Career will be released soon and hope you get a copy and read or as a gift to an upcoming football player you know.
Thank you for taking out time to read this. Bayonle Arashi