After a very long thought and planning and procrastination, I decided to build a website along with my few projects I am working on, I had thought there will be no need for me having a personal website again since I had it before and did not do much with it but after reading a couple of books and following a lot of successful entrepreneurs on the internet and seeing how they operate. I feel there is always a need for me to separate my person as an individual from the company's and dreams I am building for the world so I there say welcome to my website and I am excited that you have the time and opportunity to visit this blog.
I am hopeful you will get to know the type of person I am, what I do on a day to day basis, what book I am reading, what new experience I gained and the exciting places I have visited and will be visiting on this website from now on. Once again I say welcome to my world.
I am sure you will have read a lot about me on the website from the about tab and if not just click here for a little info about Bayonle Arashi. At the moment I am fully focused on rounding off my book titled Road Map to a successful football career, a book I have been working on since 2015, Yes 2015 but there have been so many delays in completing this book, this year however as I am going to turn 40 in June, I decided it's about time and I had promised myself to complete the writing of the book, publish and start selling as a 40th birthday gift for myself so this has been the major inspiration for me. Today Monday happened to be one of those days I am opportune to have a few hours to myself so I had spent a couple of hours on it today and I was happy with how far I went with it. I was constrained to write this book after many years as a football academy administrator and before becoming an administrator, I have spent some 10 years covering the game of football across Africa and have the opportunity to travel to two FIFA world cups, Germany in 2006 and South Africa in 2010.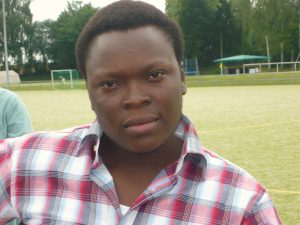 I have also gathered a lot of experience since my relocation to the United States in early 2015 as a Football (Soccer) Referee with the United States Soccer Federation and also a licensed youth football coach.  My decision to work on the book comes as a result of many questions, emails and personal discussions with young and professional players on their challenge in securing a professional trial without all the hassle and falling of victims into the hands of dodgy football agents. I have a story about dodgy agents but that is not for today.
I hope the book will be available soon on all book stores online and offline and hope you will get a copy and read to learn the basics of the dos and don ts' as you grow and aspire to become a professional football player. I am passionate about helping people especially football players who most of the time are ignorant of asking the important questions and taking the necessary steps by themselves rather than depend on anyone to do it for you. I PROMISE YOU THAT THE BOOK IS AN EYE OPENER if you have the patience to read it.
Let me stop here in the meantime and I hope to blog about different issues as I feel it is important and share a lot if information with my followers and friends. You will read everything Football or Soccer as we call it in this part, you will also read about latest technology trends as long as it is informative and provide opportunities for my followers. Some of my blogs will come in video format so get ready and lets enjoy every bit of this journey.
I care about you guys and I will be back shortly. Questions? follow me.
Have an amazing week.